In search of the best burgers, tacos and pizza in North America, Cris Nannarone is a neutral nosher
TORONTO — If Cris Nannarone has any say in the matter, octopus or beef tongue won't cross his lips. But as host of a new food competition series, the comedian says he was sometimes tricked or bullied into tucking into meals featuring those creatures.
The new three-in-one series features Nannarone on a quest to discover the best burgers, tacos and pizza across Canada and the United States. In each episode, he goes into three kitchens, whether it's a five-star restaurant, diner or food truck, to learn what goes into each chef's specialty. At the end of each episode, the three contender chefs are judged.
"You couldn't pay me to have the beef tongue," Nannarone said during a recent visit to Toronto. "On the show they tricked me. My producer went as far as learning Spanish and spoke Spanish behind my back so I wouldn't know what he was planning and told the owner, 'Don't tell Cris what you're making for him because he won't eat it."'
---
Burger Wars, Taco Wars & Pizza Wars coming soon to CMT
Posted by Diane Wild in Reality, Lifestyle & Documentary
Pyramid Productions' Sizzling New Food series Set to Premiere on CMT August 12
Let the battle for the best burgers, tacos and pizza begin! CMT (Canada) is launching a new fun-filled food series featuring three scrumptious specialties that will each be showcased for an entire month. Tune in your taste buds for Burger Wars in August, Taco Wars in September and Pizza Wars in October.
Read Full article
---
Food fight: New made-in-Calgary TV series puts food staples into delicious competition
Banff and Calgary to be featured on program
BY GWENDOLYN RICHARDS, CALGARY HERALD
Jennifer Ruszczak believes simplicity is the recipe for the perfect burger.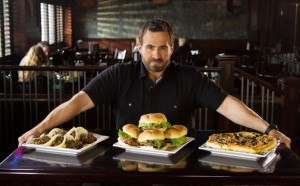 "Don't turn it into something it's not; it's beef and cheese and a bun," says the head chef of Saltlik in Banff.
Her reputation for being a burger expert will be put to the test publicly Monday when the restaurant's Royale with Cheese burger goes head-to-head against two other establishments in Banff on Burger Wars, a new show from Calgary-based Pyramid Productions.
"I don't want to reinvent the burger. I want to pay homage to what, in my opinion, it should be."
For Saltlik, and Ruszczak, that means Kobe-style beef, locally sourced bacon and buns with a house-made sauce. Nothing is added to the beef to keep the flavour pure.
That burger will go up against an elk burger from Wild Bill's Legendary Saloon and Banff Ave. Brewing Co.'s Drive-in Classic Burger in the half-hour episode.
Only one will be named the winner.
After all, this is war.
---
Cooking Channel New Shows
"In each episode, host Cris Nannarone, a veteran road warrior and standup comedian, scours restaurants, diners, food trucks and everything in between to find the best burgers, pizzas and tacos. It's a quest to find the top three contenders who will ultimately go to battle. Nannarone learns their trade secrets and discovers if their dish has what it takes to win the war."